The Future Holds Great Promise: Diarra's Story

 
For 25-year-old Diarra, stepping into the operating room of the Africa Mercy® was a moment more than a decade in the making. She had been looking for healing for a facial tumor for almost half her life. 
"I feel so good inside my heart," she exclaimed about her opportunity for surgery. "I have been to many different doctors, but they couldn't heal it." 
She couldn't recall when the tumor began to grow. All she remembers is being a teenager and experiencing a toothache that led to a small growth. From there, "it just kept getting bigger." Diarra's parents took her to several hospitals. Each visit was a step in an uphill battle, made harder by their meager earnings as small-scale farmers. Medical costs loomed large, forcing them to choose between caring for their other children or seeking healing for their daughter. Eventually, they stopped looking. 
Days blended into years, and the tumor remained. "It affects me a lot. There are many activities I would like to do but I could not," said Diarra. 
Years later, Diarra met and married her husband. By then, she knew her condition required surgery, but the couple faced similar financial challenges as her parents. 
"I had almost given up," she says, resigning herself to a life with the tumor. 
"I Must Be Healthy to Take Care of Her" 
When she gave birth to her daughter, Diarra brimmed with joy. Becoming a mother was a lifelong dream. Yet amid the elation, a shadow lingered. She wanted to witness every milestone of her daughter's life but was afraid she wouldn't be healthy enough.  
The desire to get better became overwhelming and urgent. "I have to be healthy to take care of her," she told herself.  
In 2021, Diarra heard through the radio that Mercy Ships, a faith-based organization operating a fleet of hospital ships, would return to Dakar. "The announcement said they would give free surgeries for people with tumors like me," she said. The news ignited a spark that became a beacon of possibility. Diarra clung to hope with unwavering determination.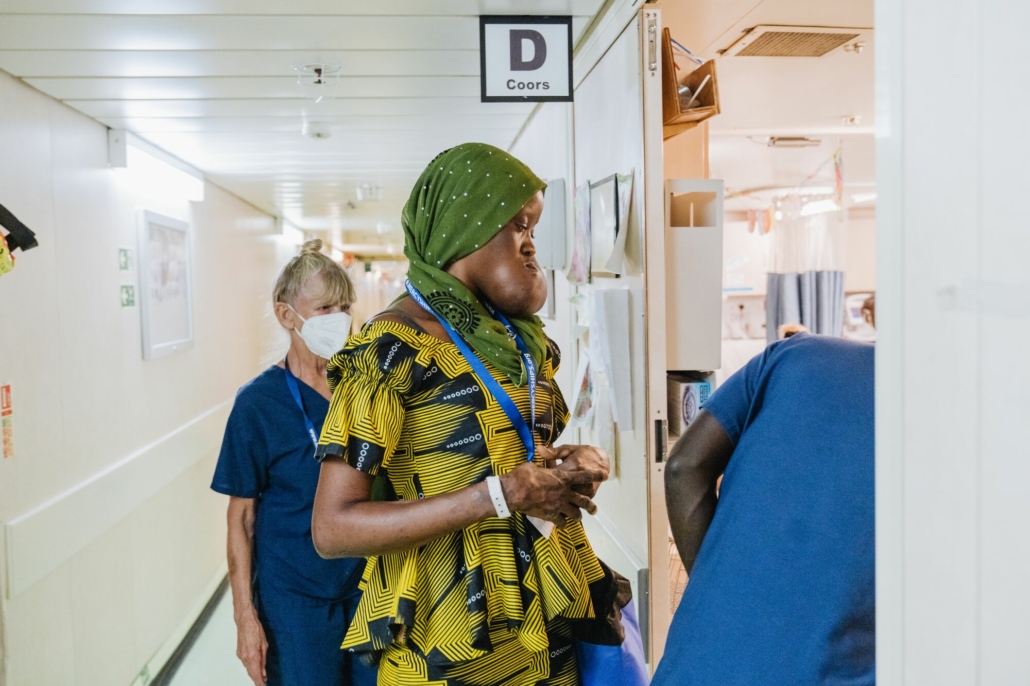 Preoperative appointments revealed that Diarra had a rare, non-cancerous tumor that began in the cells forming the protective enamel lining on her teeth. Without surgical intervention, such tumors continue to grow and could block the airways, preventing breathing and eating. Dr. Josh Wiedermann, a Mercy Ships volunteer surgeon from the United States, explained that in higher-income countries, such cases could be caught in the early stages during routine dental examinations. 
Because Diarra hadn't been able to access timely and affordable surgical care, what started as a toothache had escalated into a significant tumor. Following the appointment, she was approved for surgery on the Africa Mercy.  
Diarra and her husband lived far from the ship, and traveling for surgery meant leaving her daughter for the first time. But the thought of finally receiving help fueled her seven-hour journey.  
"I had prayed for so long; we had looked everywhere. We are so happy!" Diarra's relief poured out of her as she waited to board the hospital ship. 
Because the tumor was rooted in her jaw, part of her jawbone was removed, and a metal plate was inserted to recreate the profile of the jawbone. She would need to heal for up to three months before receiving another surgery to replace the metal with her bone. 
When the Africa Mercy left Dakar in 2022, Diarra wasn't yet ready for a second surgery, so she was asked to return to the Global Mercy™ in 2023.  
Optimism for The Future  
"She couldn't stop touching my face!" Diarra described how her daughter reacted when she got home after her surgery. While on board, she had regularly called home to her husband, Boye. "You cannot imagine how happy I am. We have lost so much money to that disease, and we never got surgery," he said. 
The follow-up surgery on the Global Mercy was far less daunting for Diarra. "My family couldn't believe that I got not one but two surgeries. They were more than happy…they were so happy that they cried," she said. 
Before her first surgery, Diarra had taken to isolation, hoping to shield herself from the curious stares. "I wanted to own a business, but I couldn't go to the market because they just looked," she recalls. But after healing, Diarra bloomed with newfound optimism. No longer burdened by the tumor, she yearns to embark upon a journey of entrepreneurship. The weight of isolation and fear has been lifted off her shoulders. Most importantly, she's free to look ahead to a healthy future where she can watch her daughter grow up.