Guinea's only dental school expanding in pioneering

educational

project to

transform access to

quality care
CONAKRY GUINEA – 6 November 2023 – The critical need to give the people of Guinea access to quality dental care is taking a major step forward with the expansion of the country's only dental school.  
Lack of access to affordable, safe dental and surgical care remains a staggering issue in Guinea, like much of sub-Saharan Africa. 
Across 47 countries, Sub-Saharan Africa, as a whole, only had 11 dental schools offering dental training to an undergraduate level in 2000.  This number has since increased to 35 dental schools across 16 countries in the region. But despite an increase in dentists, overall population growth has still left nations desperately under-served dental care. 
International charity Mercy Ships is funding the expansion project in Guinea as part of its ongoing partnership with University Gamal Abdel Nasser of Conakry (UGANC) to enhance the quality of dental education for generations to come. 
The crisis in dental care struck American dentist Dr. David Ugai hard when he first visited Guinea after his graduation while volunteering for Mercy Ships in 2012-13 for ten months. 
Despite treating patients, the queue for treatment continued to increase.  
He also observed that dental students, entire studies were just theoretical, and unlike his training, there was no practical training for dental students. The first-time students treated real-life patients clinically was after they had graduated. 
He said: "If you really did a true assessment of the dental need, it's going to be high, whether that's access to care, whether that's the cost for dental treatments, whether that is the access to providers, whether they have enough dentists in-country or not.  
"In the U.S. we're used to, you know, one dentist per 2,000, or 3,000, or 5,000 people. You go to some African countries, you're at one dentist per 1 million. You can't really start talking about dental care being functional and developed and being able to treat the population because you don't even have a workforce to start that conversation."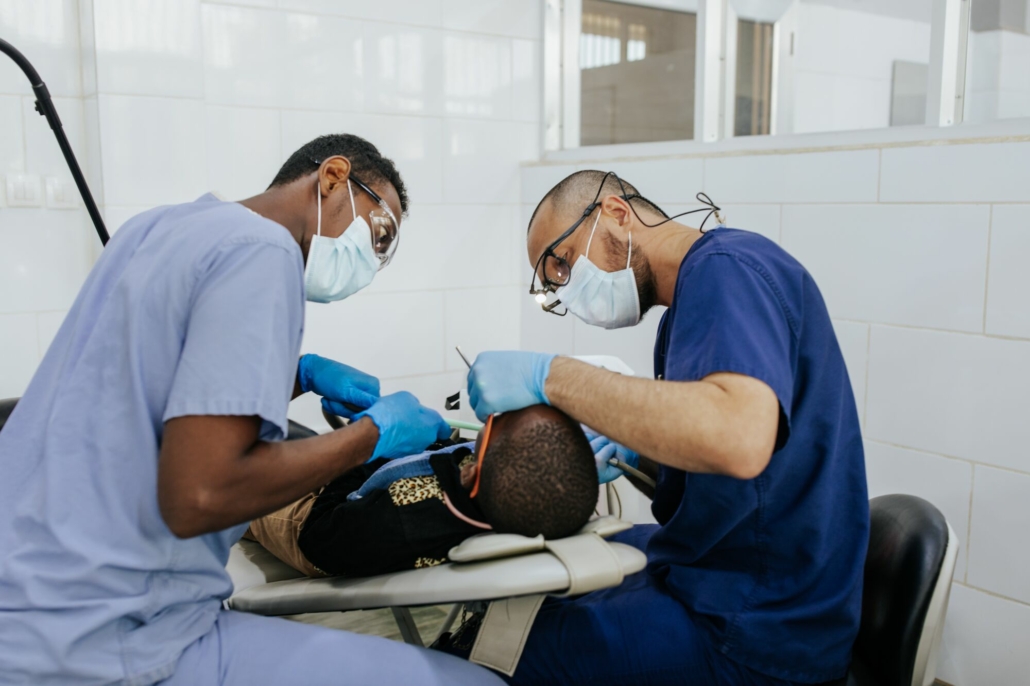 In 2018, he returned to Guinea with Mercy Ships and participated in the launch of a new kind of partnership: Mercy Ships' collaboration with Guinea's only public dental school at UGANC in Conakry that is training all the dentists for the country. 
David said: "Initially, we just renovated the space. They allowed us to use a room for our normal Mercy Ships dental program. And then, during the field service, the Dean at the time asked if we could incorporate some of the students into our program so they can get some experience in the clinic.  
"That was kind of the birth of how we slowly started engaging with the dental school, started working more specifically with students, and really started forming a true partnership with the university and the dental department." 
When the ship left in 2019, David decided to stay. Four years later, he remains in Guinea as the Mercy Ships Country Director and Director of dental education and investment. In this role, he oversees the education and clinical experience of the young dentists that work their way through the university's dental program.  
He has been instrumental in the expanded two-floor clinical training building that will more than double the capacity for dental students to study and treat patients to 22 dental chairs. It will also include a greatly expanded radiology department and equipment which will now house 6 intra-oral x-rays, 1 panoramic, and 1 Cone Beam CT with cephalometric. 
Dr. Ugai said the upgrade will allow all current and future students access to simulation and clinical training which will greatly improve the quality of teaching and dentists that qualify. The dental school has up to 150 students at any one time. 
It is hoped the invested education will not only help Guinea but neighboring countries as well. 
To find out more about the project visit https://mercyships.africa/guinea/