The Global Mercy™ arrives in Freetown, Sierra Leone to Bring Safe Surgery and Education
On August 22, a long-awaited day of hope arrived as the Global Mercy™ sailed into the port of Freetown, Sierra Leone.
It was a moment more than 30 years in the making. The start of this field service marks the next chapter in a three-decade partnership between Mercy Ships and Sierra Leone, meaning the floating hospital ship's arrival wasn't a greeting – it was a homecoming.
"Today, as we welcome the Global Mercy hospital ship to our shores, we celebrate a convergence of purpose," shared His Excellency, President Julius Maada Bio, who met with Mercy Ships leaders hours before arrival to personally welcome them to his country. "This collaboration with Mercy Ships reflects our vision for a resilient healthcare system in Sierra Leone. Their healing touch aligns seamlessly with our commitment to improve healthcare access and echoes our dedication to the Big 5 agenda on human capital development, particularly in healthcare. With this partnership, we strengthen our stride towards a healthier nation and a brighter future for all."
As the ship inched closer to the dock, it was met by the palpable joy of the crowd waiting dockside to wave the Global Mercy in. There was a collective surge of hope as laughter filled the air. The Mercy Ships Country Engagement Team (CET), positioned on the dock, embodied the vibrant spirit of the occasion with their singing and dancing. The team have spent the last few months preparing the many details for the ship's arrival, from forming collaborative relationships with the country's leaders to coordinating a dock space.
"As we were driving from the team house to the port, I got the first glimpse of the Global Mercy in the distance, and honestly, I was overjoyed. I had tears in my eyes. This is the moment we've been waiting for," shared Dr. Sandra Lako, Mercy Ships Country Director for Sierra Leone.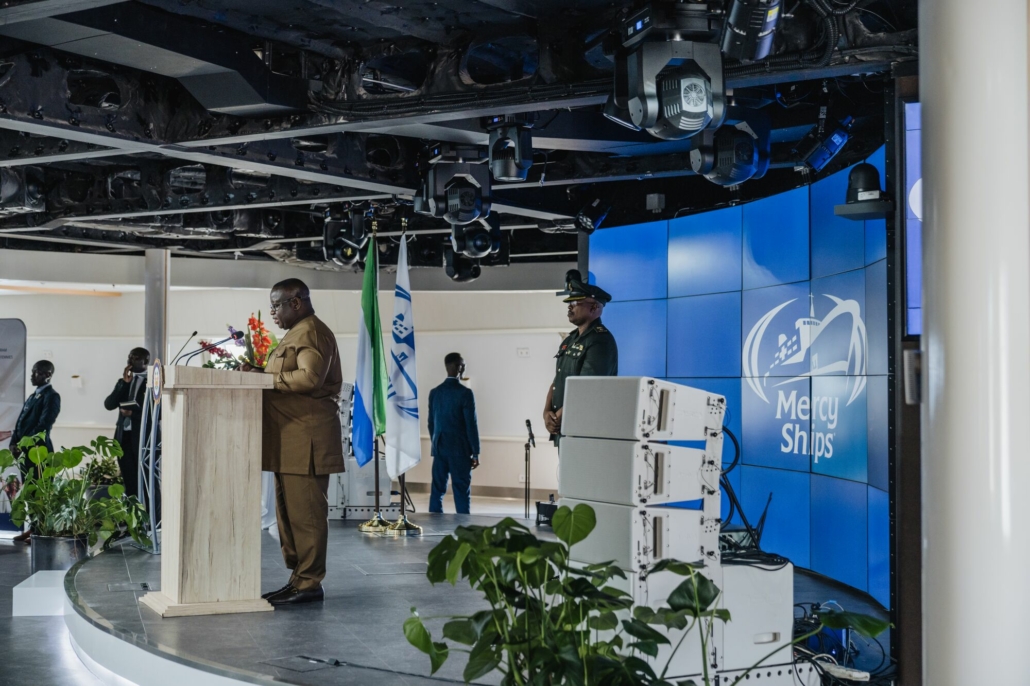 Shoulder to shoulder with the CET members were partners from within Sierra Leone's government and healthcare system, including Dr. Mustapha Kabba, the Deputy Chief Medical Officer for Clinical Services in Sierra Leone's Ministry of Health and Sanitation. As he watched the Global Mercy arrive, he shared, "I'm excited for the next ten months. I'm excited to see how this ship goes into full operations. I'm excited to see the smiling faces of my compatriot Sierra Leoneans, who are going to benefit from this wonderful service Mercy Ships is bringing into our country."
In response to an invitation from H.E. President Bio, Mercy Ships has carefully aligned its program strategy with the country's current strategic healthcare plan. Over the next 10 months, the Global Mercy – Mercy Ships' newest and largest hospital ship – will be the site of more than 2,350 life-changing and lifesaving operations.
Each person will come on board to receive safe, free surgical care in one of the six operating rooms on board, for conditions like cleft lips and palates, burn contractures, orthopedic malformations, benign tumors, cataracts, and more.
"They come in with tears, but they leave with a smile," said Dr. Austin Demby, Sierra Leone's Minister of Health and Sanitation, when speaking about what it means for the people of Sierra Leone to receive Mercy Ships in their country.
But the transformation won't be limited to the operating rooms on board. Mercy Ships will also collaborate with Sierra Leone's Ministry of Health to provide education for more than 200 healthcare professionals working in the surgical ecosystem. From nurses and surgeons to biomedical technicians and equipment sterilizers, Sierra Leonean medical workers will partake in programs designed to strengthen existing skills and develop new ones. While some of these programs will take place on board, Mercy Ships is also expanding its training protocol to include collaborative learning at a national hospital in Freetown.
"With the Global Mercy arriving today, it really is the start of our field service, and our programmatic activities here in Sierra Leone," said Dr. Lako. "We'll be receiving patients, we'll be training healthcare professionals, and we will do this for years to come. This is really the start of a long-term partnership—a continuing partnership with the government and people in Sierra Leone."
Within the span of just a few weeks, the dock space will transform. Benches will seat patients waiting to see medical crew before surgery. The ship's gangway will welcome patients on their way to and from a transformative operation. Nearby, the HOPE (Hospital Out-Patient Extension) Center will prepare to become a home away from home for patients and their caregivers. A crew of volunteer professionals will assemble from across the world in pursuit of Mercy Ships' mission: to bring hope and healing, following the 2,000-year-old model of Jesus.
It's all about to begin. Thank you for being part of igniting hope and multiplying impact, together.