Mercy Ships Partners with Hope Ignited to Launch Guinea's First Pediatric Center of Excellence

 
In a brightly decorated hospital room in Dubréka, Guinea, baby Mory is being examined by a pediatric surgeon. The surgeon gives Mory's anxious parents a big smile and a thumbs up – all is well. 
When the surgeon first saw Mory a few months ago, he was severely malnourished and dangerously underweight. Now, after regular treatment and several follow-up appointments, he's reached a healthy weight and is being sent home, much to the relief of his parents. 
With infant wellness checks, this would be a normal scene in many parts of the world. In Guinea, care like this is a groundbreaking new reality. 
Prior to 2023, there were no pediatric centers for children in the country. With a population of 13 million people – nearly half of whom are under the age of 15 – millions of young people in Guinea lacked vital medical care. This meant that everything from routine pediatric appointments to emergency surgical care was not designed with children's bodies and needs in mind. 
Most often, families in need of pediatric care were left facing the cost-prohibitive option of bringing their child out of the country for surgical care, seeking unspecialized care in-country that came with added risks – or simply forgoing treatment altogether. 
"What we really saw was just enormous gaps and also really fragmented pediatric care," shared Rachel Jamison, the medical director of Hope Ignited. "In other words, a child with, for example, HIV and tuberculosis, a common occurrence here, would have to go to five or six places to get all the testing, treatment, and management that they would need to complete their course of therapy. With the poverty level being what it is here, it's pretty much impossible for families to even just pay for the transport to those five locations, much less navigate the complexity of that." 
Rachel and her husband, Adam, saw the potential for a different future for Guinea. A future where children could quickly, safely, and affordably access the care they needed in their own country. A future where parents wouldn't be left making an unthinkable decision. With Adam's background in electrical engineering and Rachel's expertise as a pediatric cardiologist, they felt called to build a pediatric center of excellence, the first of its kind in Guinea. 
It was a compelling dream – but funding it came with its own set of challenges.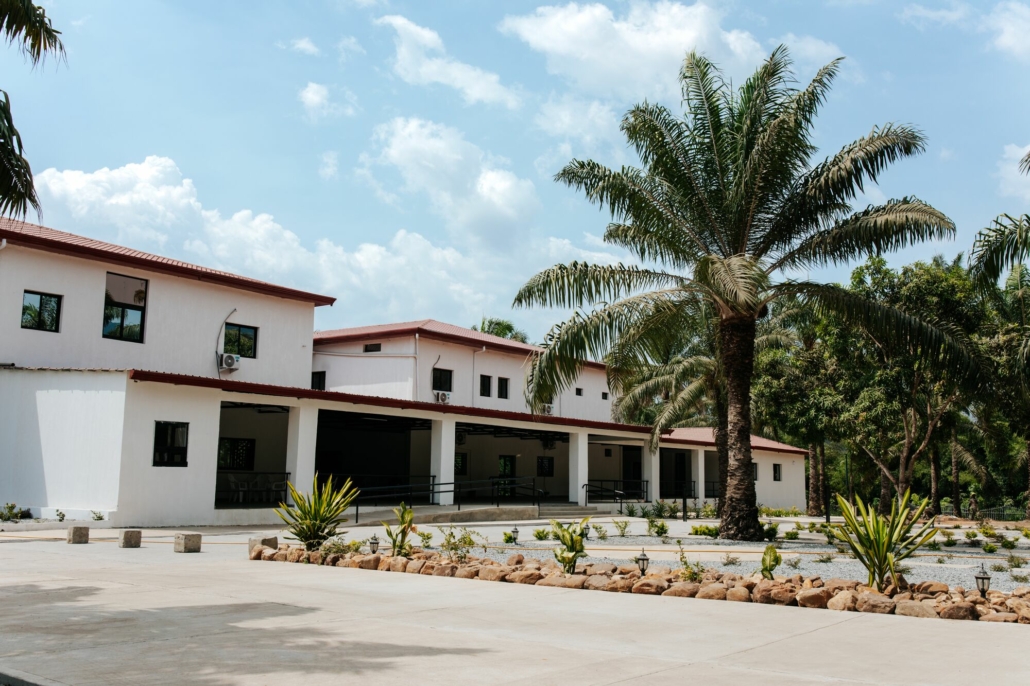 Rachel and Adam brought their idea to Mercy Ships founders Don and Deyon Stephens. Forty-plus years ago, Don and Deyon had their own dream, which sparked into an organization that's now served more than 1.2 million medical and programmatic beneficiaries. Mercy Ships decided to support making Rachel and Adam's vision a reality. 
"We are extremely grateful for the way in which Mercy Ships has been willing to come alongside us to extend the ability to bring hope and healing to the people in Guinea. We talked early on with Mercy Ships about the vision and about what we wanted to do. And it became clear, especially through their focus on medical capacity building, that it was a great partnership to figure out when the ship is not in-country, how can they continue to make an impact," shared Adam. 
The vision of Mercy Ships is simple: to transform lives and serve nations. Through partnerships with organizations like the Jamisons', Hope Ignited, Mercy Ships continues to bring this life-changing mission to life in countries like Guinea. 
In 2023, the very first patients entered the doors of Sacre Coeur (Sacred Heart) hospital. Welcomed by a staff of Guineans, who are being trained to take over the hospital in the future, families like Mory's can now receive the specialized pediatric care they need. Before the official grand opening had even taken place, people were already lining the waiting rooms outside the hospital doors. The construction had created a stir in the community, bringing a wave of hope for parents in the town and beyond. 
"We've seen our community get excited. They're really proud that they have a pediatric center here in their area. And when you talk with the people in the area, they'll tell you this is one of the best things that's ever happened to them," said Rachel.  
"To us, as Westerners, that seems ridiculous because we have pediatricians all over the place. We have hospitals on every corner. But here, for them to know that their kids might actually grow up healthy, I think we don't understand the impact that has on their families." 
 With the pediatric center of excellence now operational, babies like Mory can receive preventive and interventive care from birth. They can be seen by pediatric specialists, all of whom are committed to passing their specialized training onto others. Through partnerships like these, more children than ever will have the opportunity to live a healthy, vibrant childhood in Guinea. 
Learn how to help make life-changing surgical care a reality for more families today.