Safer Surgery by 2030: African Leaders, Mercy Ships Gather for Historic Symposium
An estimated 93% of the people in sub-Saharan Africa lack access to safe surgery.
Each of those people has a name, a face, and a story. Like Marie Madeleine, a teenager in Senegal who struggled to get to school before she received surgery to straighten her legs. Or Baba, a peanut farmer who thought he'd never again be able to help his family after a severe burn took the use of his arm.
Since 1990, when the Anastasis first docked in Lomé, Togo, Mercy Ships has worked side by side with the African people to provide safe surgery to those who need it.
And after three decades of fruitful partnership, it's time to take this work to the next level.
"We need now to support Africa to design a health system, and strengthen the system," said Mercy Ships Africa Bureau Director Dr. Pierre M'Pelé.
The political and scientific leaders of Africa are developing a plan to strengthen surgical, obstetric, and anesthetic systems from within over the next 10 years. In May, led by the government of Senegal, these efforts will converge at the International Symposium on Strengthening Surgical, Obstetric, and Anesthetic Care Systems in Africa by 2030.
This event is part of an overarching Mercy Ships Africa Celebration, marking not only a step forward for the surgical systems across the continent, but a celebration of the 30-year partnership between Mercy Ships and the nations of Africa. None of this would have been possible without our supporters all over the world. And you're invited to be a part of it all.
The Importance of Evidence
Still, little is known about the specific barriers to surgery in each African country. That's why the Senegalese government and partners have launched a baseline assessment. The study will investigate the surgical, obstetric, and anesthesia systems in 47 African nations and identify any gaps. Currently, only seven of those countries have a surgical plan – but that will soon change.
The team behind the assessment worked with more than 850 district hospitals to gather the data. Dr. M'Pelé believes the study is vital to moving forward.
"If you don't have an assessment, you cannot have a plan," Dr. M'Pelé said. "It's about research. Research to support actions. Based on that assessment we can now help them to think about, what are the priorities? What are the best strategies for Africa to invest, and then to upgrade the system for the next 10 years?"
Key Events
The Mercy Ships Africa Celebration is a time to celebrate and reflect on the progress of the past 30 years, and to set our hearts toward what's next. You are invited to join portions of the events virtually, from wherever you are in the world.
From May 4-5, medical experts from around the continent will gather at the symposium to discuss the baseline assessment's findings. Then on May 6, a group of African Ministers will go over their report, taking another step to turn research into action. This will be followed by a press conference, viewable via livestream.
On May 27, the newest and largest hospital ship in the fleet, the Global MercyⓇ, will make its maiden voyage to Africa. After years of planning, dreaming, and building, this ship is finally ready to join the Africa MercyⓇ in Senegal, beginning her life of service. The commissioning of the Global Mercy on May 30 will mark the beginning of a doubled fleet capable of double the hope and healing.
Finally, on May 30, African Heads of State will gather for the Presidential Conversation to create a strategic roadmap based on the results of the assessment. This document will help guide them through the process of making lasting improvements to Africa's surgical, obstetric, and anesthetic systems by 2030.
"We have a shared vision of working together in strengthening surgical, obstetric, and anesthetic care systems in Africa, and we are looking toward the future together," said Gert van de Weerdhorf, Mercy Ships Chief Executive Officer. "This is a momentous occasion in Africa, and we are so grateful to be a part of it."
Building from a Strong Foundation
Mercy Ships has partnered with Africa on health system strengthening for years, through its Medical Capacity Building program.
"Good health is a sign of a strong, solid country," said Dr. Miriam John, Mercy Ships Interim International Chief Medical Officer. "It allows you to progress with your education, allows you to progress with your economy."
In Guinea, Mercy Ships partner Professor Raphiou Diallo trains the next generation of dentists and oral surgeons. In Cameroon, Dr. Serge Ngouatna teaches primary trauma care to doctors in rural areas. In Senegal, the Food for Life program empowers local food producers like Birima, who then teach their communities about nutritional agriculture to help raise healthy children.
"When the ship comes in, we do amazing work, but we can't stay there all the time," said Dr. John. "And it's important that we help to strengthen healthcare systems as part of what we do."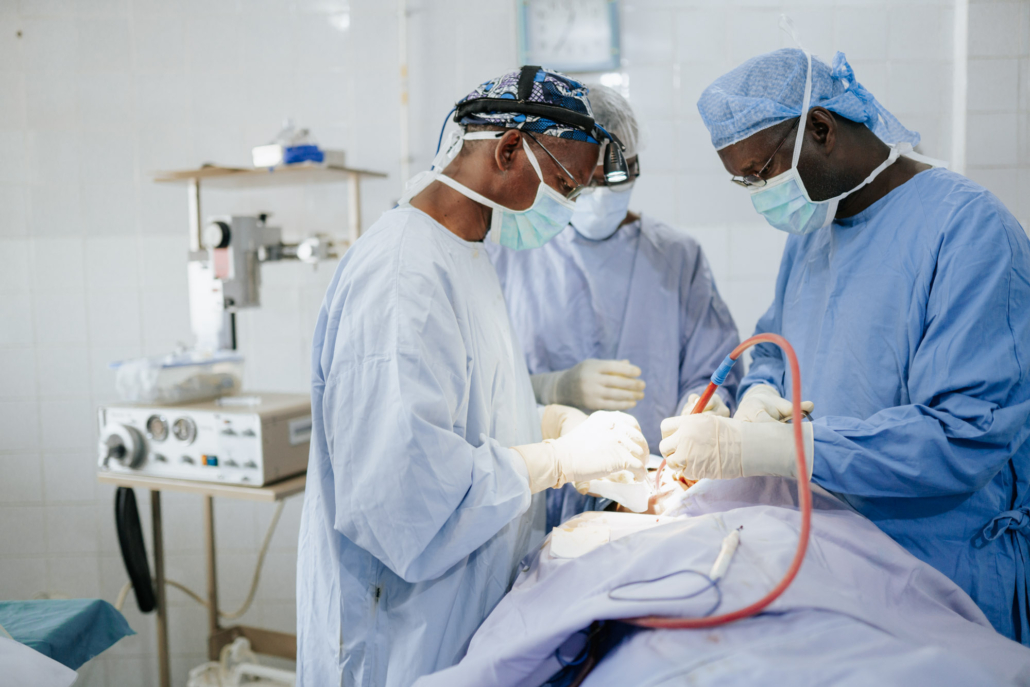 Supporting, not Leading
In this new season, Mercy Ships will seek to fill the role of supporter, adviser, and partner. But the ability to change the landscape of surgical care in Africa lies with the African people.
"We have influence, but it isn't our responsibility to fix that system," said Dr. John. "We do have an amazing opportunity to influence, empowering others to be able to change their system from the inside."
Dr. M'Pelé believes the work of Mercy Ships is more important than ever.
"What a beautiful role we have," he said.
He sees Mercy Ships as an agent of unity, bringing together leaders in government, medicine, nonprofits, academia, and business, to help ensure that this mission is a success.
"This is something we will decide together," he said. "We are going to make bold decisions for our future. And we don't have the right to fail. We have to succeed."
The Mercy Ships Africa Celebration is a chance to celebrate a three-decade legacy of hope and healing, and to look ahead to the future. Follow updates from Mercy Ships to learn how to get involved and participate virtually.