'The Gifts Within': Hamadou Finds Hope
Hamadou was 4 years old when he came to the Africa Mercy® in Senegal.
By then, he had learned to cope with the physical limitations of his cleft lip, a gap in his upper lip that impacted his ability to swallow and eat, as well as how his teeth were growing. But the cleft lip continued to hold him back socially, even within his own family.
People in Hamadou's community drink their water from a large pot that they share with other members of their household, as well as any guests.
"People would not want to drink from the same water pot as him," said his mother Hawa.
While Hamadou was isolated in some ways, his mother was always by his side providing constant support.
Coming on Board
In 2019, Hamadou's mother took him to meet with Mercy Ships screening nurses. However, the pandemic delayed his chance for surgery.
Despite not being able to find treatment for Hamadou in the following years, Hawa never gave up hope that her son would be healed. In 2022, the Africa Mercy returned to the Port of Dakar to honor the commitment that they had made to patients like Hamadou.
Hamadou was among the first group of patients to come on board. He was taken care of by Lily Orcel, who was volunteering as a pediatric nurse for the first time with Mercy Ships.
"It was new for him, but it was also new for me," she said with a laugh. It took some processing for her "to just realize that they've been going on with this treatable condition for so many years," Lily said. Back in her home country of France, any child with a cleft lip would likely be treated as a baby.
"We also have adult patients who come with the same condition," Lily explained about Mercy Ships. "Just to know that we can have a huge impact on their quality of life with a surgery that we would do very easily back home, and that they've been waiting for that their entire lives—it's just an honor to be part of such a process."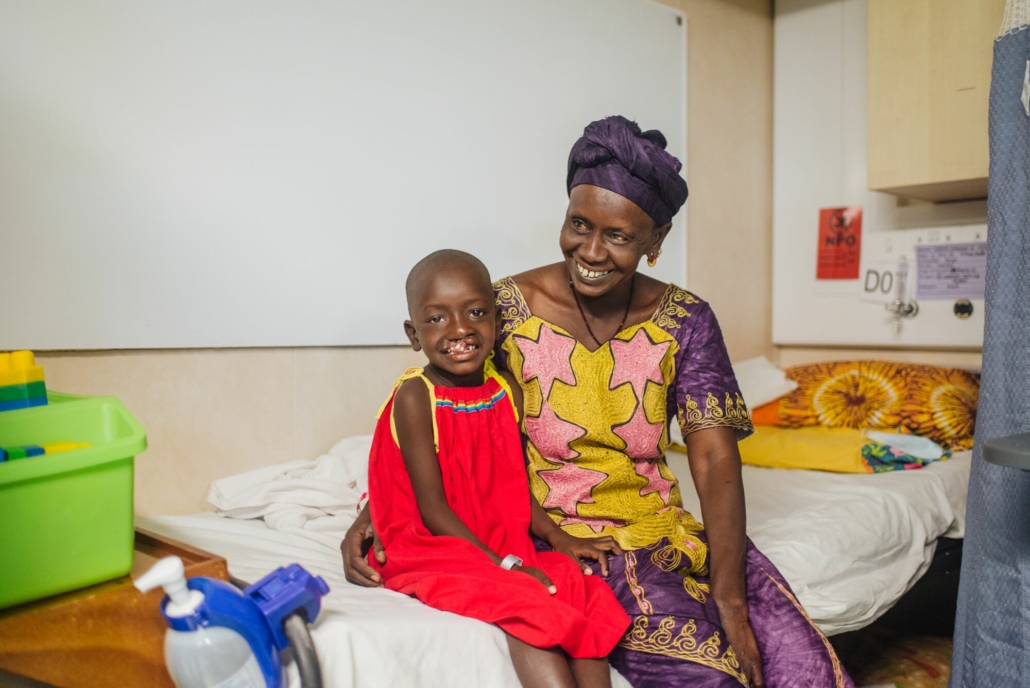 Just as Mercy Ships made an impact on Hamadou and his family, the little boy left his own mark during his time on board.
"Sweet Hamadou—he really was a memorable patient for me," said American volunteer nurse Mary Toupin. "He was a 4-year-old with the courage of a 24-year-old. … I take care of a lot of 4-year-olds back in the United States, and I can tell you he was very exceptional."
When the moment arrived for Hamadou to go home, Mary and the other volunteers had already learned that this little boy was a fighter.
"As an infant, it can be really challenging to eat, because the lip impacts the ability to suction and drink milk," she said. "The fact that he was already 4, and he had lived his whole life with a cleft lip, means that he had overcome a lot."
Seeing Hope
A few weeks after surgery, the swelling in Hamadou's face had subsided, and he was able to smile like never before in his life. Discharged from the Africa Mercy hospital, Hamadou and Hawa returned to their home, an eastern village in the Tambacounda region of Senegal.
The operation had come just in time to fulfill Hawa's wish for Hamadou to enroll in school, unhindered by his condition. Hamadou "had a deep passion for technology" just waiting to be fostered with the right education.
"You could just see him really lighting up the moment he saw technology," said Eugene Ampadu, a volunteer videographer from Ghana who was part of the team sharing Hamadou's story. "I remember taking him on as an assistant, giving him the headset and he was just quiet, watching how it was all going."
For Eugene, that shared interest was one more way that he could help provide new hope to Hamadou.
"Patients are not only receiving healing through their physical conditions, but they are also being healed internally, being restored to families, being restored to friends," he said. "And in the case of Hamadou, they are being able to see hope in the various gifts and talents within them."